This is a club of members of the GFWC Illinois Federation of Women's Clubs. We have joined together as friends of Jacquelyn Pierce, who served as GFWC IL State President 1992-1994 and then went of to serve as General Federation of Women's Clubs International President 2006-2008.
We helped to raise funds for Jackie's installation on 2006 as President of the GFWC, and worked towards a grand reception hosted by the members of the Illinois Federation.
For instance, we have the famous "Jackie's Charm Bracelet," which had included the blue bow, the red hat, note pad/writing pencil, chair, shoe and gavel charms. The sale of the bracelet and charms helped to raise funds for Jackie's installation. Our members also participated in a "basket raffle" at the GFWC IL convention each year, where there were baskets of gifts, donated by members, on display, each one a work of art. These were limited only by the donor's imagination.
We are currently continuing the basket raffle at each State Convention to help raise funds for the Isabella Candee Foundation, an endowment fund for GFWC IL, and towards Domestic Violence, the signature project of GFWC.
However, we like to think of ourselves as a "fun raising" or "friend raising," because most of our projects are truly fun and friendly and have fostered acquaintances and fellowship by women throughout the state of Illinois.
We have three meetings per year, one at the GFWC Illinois convention in May, one at a member's cabin near Lake Geneva, WI, usually held in August, and one in the fall at various locations throughout the state.
Our dues are $30.00, and we urge you to join this group of
"Girls who just want to have fun."
2016-2018 Officers
President~~~~Regina Orawiec
Vice President~~~~Kathy Koran
Secretary/Treasurer~~~~Karen Erb



Our Fall 2016 meeting will be held in conjunction with the Great Lakes Conference in Lake Geneva, WI. The meeting will be an informal gathering at the Friday night banquet. Look for the Flamingo…and look for us!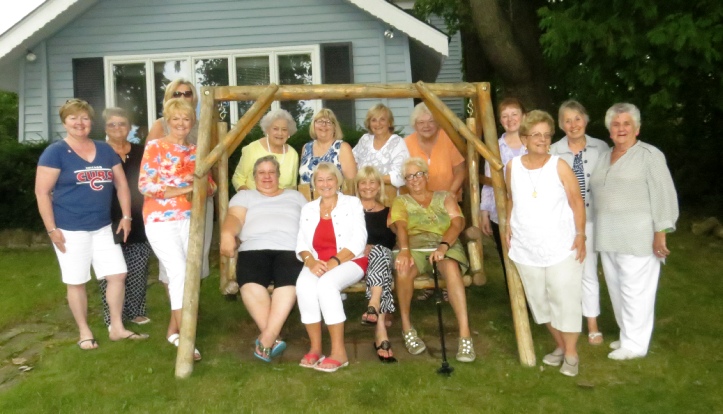 Summer Meeting, August, 2016, Lily Lake, WI